Drama, Oration and Recitation
Drama, oration and recitation are tools utilized in a classical education that produce life long skills.   Simply put, the ability to 'stand and deliver' empowers and equips the student to serve well.  Christians have the truth of God to communicate to the rest of the world!
RCS begins teaching this very important skill in Kindergarten and builds upon it year after year to 12th grade.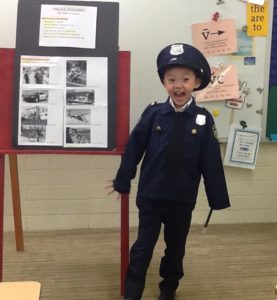 From 'show and tell', to story jokes, to poetry recitation, role play, reader's theater and senior thesis, students are involved in projects, assignments, and classroom activities that intentionally develop skills of oration.

The RCS Oratory Festival, a school-wide festival, features each student delivering a practiced and memorized oratory piece.  Judges provide comments and encouragement for improvement.
Classical Showcase and School-wide drama performances are special occasions when we see the students in action.  In the spring of each year, students are involved in dramatic productions, whether they be the all-school musical, or a high school students in a murder mystery.